Copyright 2014, Aku Press LLC, All Rights Reserved. International Copyright Secured.
IMMEDIATE NEWS RELEASE
13 December 2013
El Aku ALIHA ASUR HIGH
Post Office Box 3456
Albuquerque NM 87190
505 796 4651
SEND US YOUR RATE CARD


PRIORITY ONE = REPEAT: PRIORITY ONE!
TO: ALL AKURIANS
OPERATIONAL IMMEDIATE
13 DECEMBER 2013 - 10 TEVET 5774


SNOWSTORM - JERUSALEM TO CAIRO!


In 1948 when I first visited Egypt, our guide from the Mena House jokingly told me that I didnít need an umbrella or rain coat (we were packed for Europe) as rainfall in Cairo was "three for four drops every one hundred years!"

October 31 - November 5 1956, I was among those deliberately sent into Egypt because we had a multi-nation representative Honor Escort returning from England to our bases in Korea and Japan, BECAUSE of, rather than in-spite-of, the fact Egypt had thrown the British and French OUT of Egypt and seized control of the Suez Canal on October 29. None other than Muhammad Anwar El Sadat, then a Staff Officer of Gamal Abdel Nasser and later President of Egypt, who took charge of our intrusion to PREVENT another political crisis, told me when we were preparing to spend the night atop the Great Pyramid that we needn't worry about the weather as "it only rains on the Gizeh Plateau three for four drops every one hundred years!"

April 1978 - Lois and I vacationed in Egypt - again ensconced in the Mena House - and another guide at Karnak hired by Mena House told us of the fact that there WAS rain that far south, but at the Great Pyramids at Gizeh, "it only rains three for four drops every one hundred years!"

AND NOW THERE IS A SNOWSTORM FROM JERUSALEM TO CAIRO?!!!

Not only is that a HAARP eye-opener, the whole damage is not yet revealed! The Nile River DELTA where the Nile empties into the Mediterranean via a series of canals and rivulets produces some NINETY PERCENT (90%) of Egypt's FOOD supply! AND IT JUST GOT A BLANKET OF SNOW!

For those who aren't up to date on all things Egyptian, the entire Nile River Valley is only about FIFTEEN (15) MILES wide at the widest point south of the Delta and where the fertile river deposits and the river water ends: the desert starts within inches! When Lois and I were visiting Saqqara (1978) we saw a farmer tending the outer edge of his garden - with its black soil - STANDING IN THE DESERT of infertile sand and rock!

I don't need discernment to KNOW these things, I have been there, seen it myself, and drank beer with the owners and inhabitants!

Google Earth at == 31 46 05 N 35 12 49 E and scroll OUT to see the close-up of the DELTA from Cairo to the sea. There are usually TWO full harvests from the DELTA, the one coming out of the fields now is the summer vegetable to make way for the planting of the winter GRAIN and POVENDER; and it is the summer vegetable crop that has just been near-totaled requiring an all-but UNAFFORDABLE preparation for the winter planting that hasn't been done yet.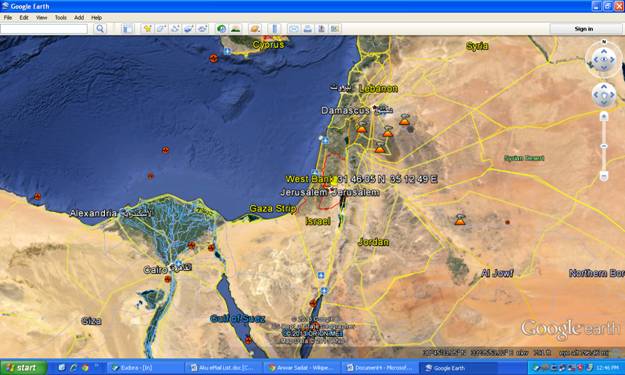 While you're looking, scroll down the Nile River and note the LIMITED planting area - where there is any - on BOTH sides of the river. And note also when you get down to the Aswan Dam there isn't any GREEN planting area from there south into the Sudan! Food is a MAJOR problem in Egypt and now, THANKS TO HAARP AND THE BASTARDS THAT BE, it's become catastrophic and it's going to get worse.

Akurians, PREPARE for the worst, as the US is going to be the SOLE provisioner to Egypt right in the middle of their own civil war! Syria will APPEAR to take a bit of a back seat - at least by the Lying Stream Media - and the US is going to have to UNLOAD all that Monsanto GMO 'food' they've contaminated this Nation with: and the soon-to-be-starving Egyptians are going to be the target. Make no mistake, getting even the inedible weeds of Monsanto will be used to secure whatever POLITICAL and GLOBAL ECONOMIC conditions that can be extracted by the Bastards That Be.

This is another hard lesson about the nature of the enemy, and one the Akurians had damned well better learn to the letter.

EAAAH


- 30 -


Quote with author credit.
Copyright 2013, Aku Press, LLC.
All Rights Reserved.
International Copyright Secured.